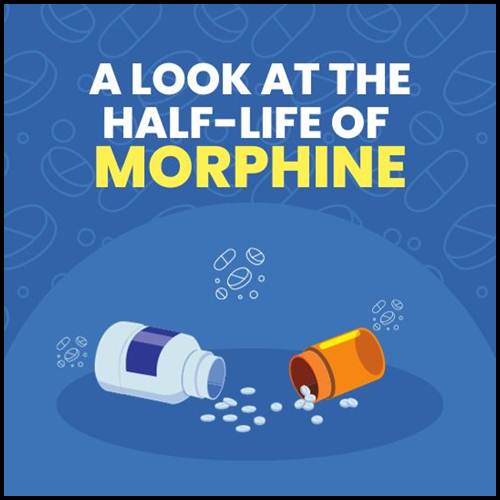 Morphine is an opioid medication used to treat severe pain and end-of-life care. It is sometimes also used to manage chronic pain in patients under a doctor's supervision. This powerful analgesic is extracted from the opium poppy plant and synthesized into a narcotic pain reliever. It is a schedule II controlled substance that is closely regulated by the Drug Enforcement Agency (DEA) because of its high potential for abuse. Morphine abuse presents a considerable public health concern in America despite ongoing initiatives such as prescription drug monitoring.
Since morphine is such a powerful narcotic analgesic, it is important to understand a little bit about the half life of morphine. Whether you are a patient, drug rehab staff, or a healthcare worker, understanding the half-life of morphine is essential to staying safe when dealing with this powerful drug. Morphine is a respiratory depressant and can present a hazard when mixed with certain other types of medications, such as benzodiazepines. Here's what you need to know about morphine and its half-life.
How Morphine Works
Morphine may be administered in pill form, injections, and even intravenously. This makes it a flexible medication for healthcare providers because it can be used in various settings. Morphine works by attaching to specific receptors in the brain and spinal cord. It then prevents the release of specific neurotransmitters which carry pain signals to the brain.
Morphine binds to mu-opioid receptors in the body to help regulate pain signals. It reduces the strength of the pain signals sent by the brain to relieve pain within the body. It also produces feelings of sedation and euphoria once it reaches peak effectiveness. Morphine is an efficient pain reliever with a high potential for abuse and dependence.
Half-Life of Morphine
A drug's half-life is the amount of time it takes for half of the drug's active compounds to be eliminated from the system. The half-life of morphine is typically between 2 and 4 hours on average. There are many factors that can affect the half-life of morphine including the patient's weight, dosage, kidney function, and frequency of ingestions. It is important to note that morphine's metabolites can often be detected well after morphine itself has been discontinued.
The exact type of test being administered can also directly impact the length of time morphine can be detected in the system. While a urine test is the most common way of detecting morphine use, a hair follicle test can detect the drug for up to 90 days after the last ingestion. Morphine can be detected in the urine, saliva, and blood for up to 3 days after taking it with a simple test.
A Powerful Analgesic
Morphine is a powerful narcotic painkiller with a high potential for abuse and dependence. It should only be taken under the close supervision of a healthcare professional and for the shortest amount of time possible. Morphine is an effective pain reliever when used responsibly but taking additional medications containing respiratory depressants can be dangerous. Understanding the half-life of morphine can help patients and healthcare providers use this narcotic pain reliever safely. It can also help drug rehab personnel ensure patients are following their plan of care. If you or a loved one has become addicted to morphine, get professional help immediately.