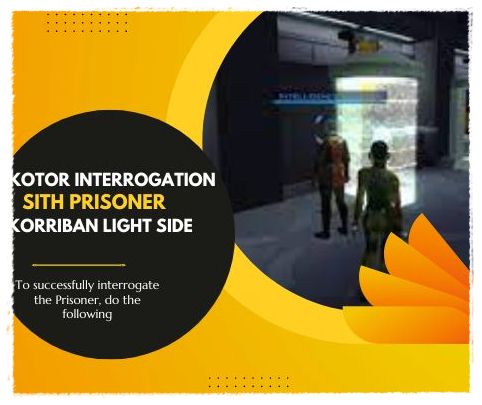 Sith Interrogation Side Quest – Korriban (Kotor 1)
Start Point: Sith Academy End Point: When you've completed the Korriban Storyline
Reward Light Side Points or Dark Side Points + Prestige
Interrogating prisoners in the Sith Academy to find out the secret weapon cache is one of the ways you can earn Prestige. The Interrogation Room can be found in the northeastern most section of the Sith Academy. Entering the room will start a scene with the current interrogator.
This quest has many paths, each offering different results and opportunities for Light Side and Dark Side Points. You will need to inquire the prisoner about any possible way to release him to earn Light Side Points. He will tell you to put him in a catatonic state with the computer. However, you need at least 10 computer skills for this to work.
Read More : Harvest Moon Magical Melody US Action Replay Codes (Updated)
LightsidePoints + Prestige Make the prisoner catatonic by using the computer.
Dark Side points can be used as an alternative to this quest. To ensure the prisoner is not unconscious, you must give him the correct amount of truth serum. This will allow you to get the information you are looking for. This is how I explain it best. You will need to give him nine damage to get the prisoner to speak.
Here are the values for each injection and information about the prisoner's overall health.
Serum Injection Values:
Heavy Dose: 5
Medium Dose: 3
Small Dose 2.
Prisoner Health: 10
Requires 9
Notice: Injecting your prisoner with 10 or more will cause his death and give you Dark Side Points. However, it won't bring you any prestige.
Any combination of injections can be used to bring him up to 9/10. However, 3 to 4 medium doses are the most common. Dark Side Points are a side effect of injecting truth serum, but you won't get them if you do it again. To find out the location of the cache, ask the patient after he has been injected with nine doses.
The interrogator will ask you about the location and then tell you that he's stealing your prestige. This quest's final choice is to fight him or let him steal your prestige. He will give you Dark Side Points, and you can return to Uthar to inform him about the cache.